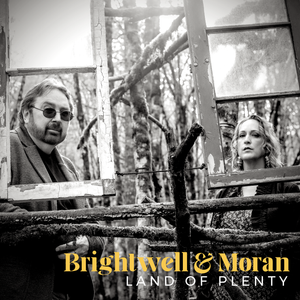 Our 1st Crowdfunding Project - We Need Your Help!                      WATCH THE VIDEO
"Land of Plenty" is Brightwell & Moran's — aka Radio Stranger — newest offering. For this project, we enlisted the services of producer Dean Baskerville (Sheryl Crow, Pink Martini, and Everclear) to bring our sonic vision to life. The result is 5 finely crafted songs that capture the intensity of the last couple of years and the defining cultural moment we find ourselves in. 
"The songs, lyrics, your voices, and the production, I enjoyed it all. I couldn't help but think what a positive contribution you are making to the world with your songs. That may sound kind of corny, but it's admirable and inspirational. Thanks for sending them to me. It's a great way to start the day." GF - Los Angeles, CA 
In addition to searching for licensing opportunities in film and tv, we really want to get these songs out into the world! This will involve hiring a publicist to reach out to internet and terrestrial radio, streaming services and playlists, music blogs and reviewers. We'll also need a marketing campaign to share the music with as wide an audience as possible as we release the album as singles: one song at a time. 
Up until now, we have been operating on a shoe-string budget, but it's time to take our music to the next level. We've put together some great perks for folks who want to help us fund this new project. See if there's something that works for you. If you just want to send us a donation with no strings attached, there's a button for that too! 
Thank you for your support! We can't do it without you                       WATCH THE VIDEO
1. Follow the link. 2. Watch the video. 3. Pick a Perk. 4. Feel Great About Helping Kelly & Woody get their music out.